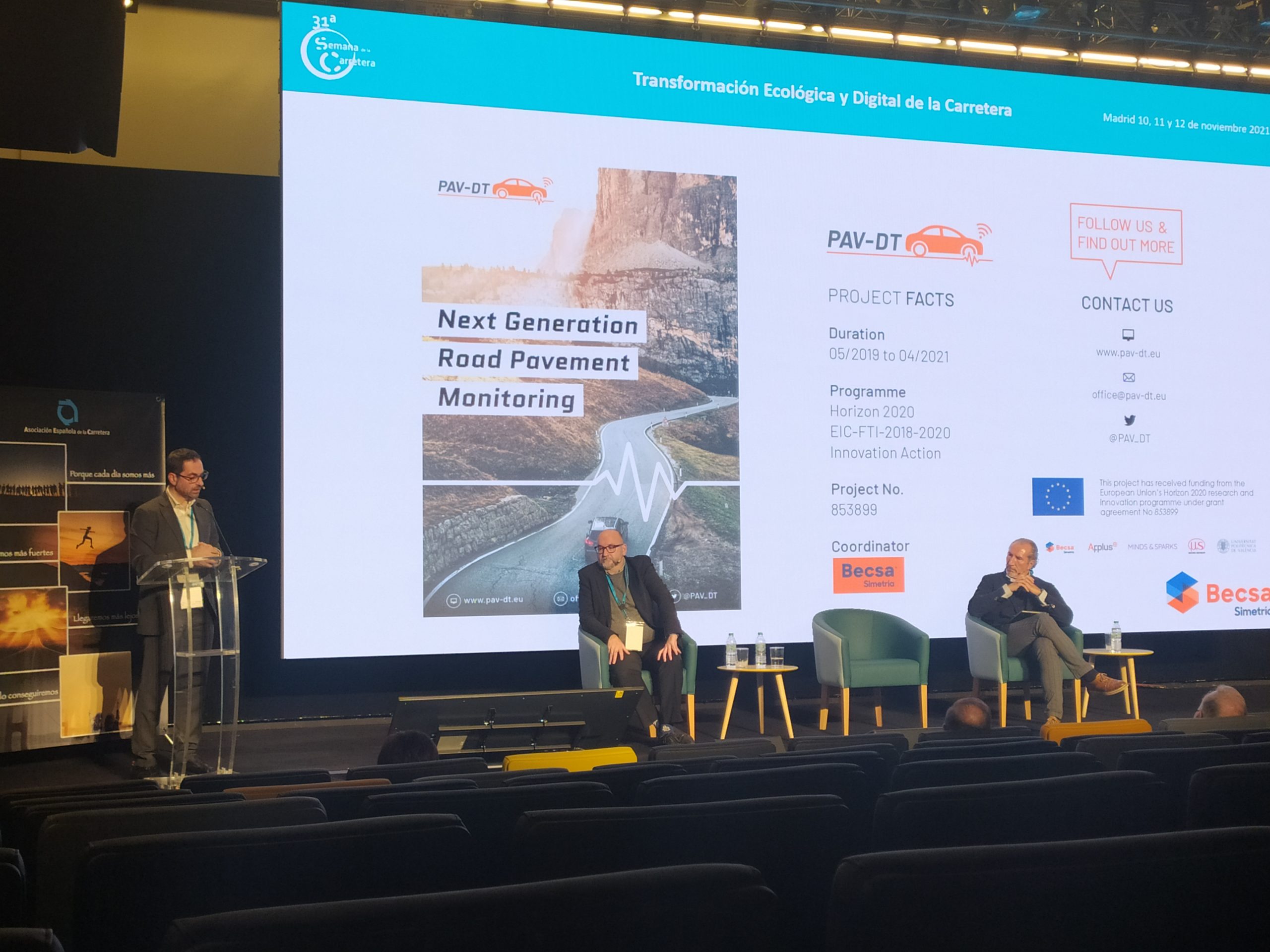 23 Nov

31st ROAD WEEK CONFERENCE

The Spanish Road Association (Asociación Española de la Carretera, AEC) has organised the 31st Road Week held in Madrid from 10th to 12th of November 2021. The event was organised under the slogan "Green and digital transformation of roads. Horizons of a sector in metamorphosis"and aimed to provide visibility and value for projects that want to humanise urban environments from infrastructure and a new generation of roads standpoint to ecological road adaptation and digital roads transformation.

On the second day of the event, Francisco José Vea Folch, Innovation and New Technologies Director at BECSA, conversed about several projects carried out by the company in relation to road digitalisation. Among the topics discussed, PAV-DT stood out as this project aims to develop a pavement monitoring system Class I, enabling low cost and easy installation on conventional vehicles with the additional capability of detecting, locating and quantifying existing pavement defects. Vea Folch also added that "the biggest challenge facing mobility regarding digitalisation is the need for dialogue, collaboration, and cooperation among all parts involved".

During the 3-day-conference, each representative spoke and presented new ideas and advantages of their projects and programs. Javier Herrero, for example, General Director of Roads (Director General de Carretera del MITMA), spoke about different issues at the Summit of General Directors of Roads of Autonomous Communities and Regional Councils (Cumbre de Directores Generales de Carreteras de Comunidades Autónomas y Diputaciones Forales), pointing out the European plan for recovery and incrementation of material costs of the sector.

It is this type of event that provides great assistance to any of the sectors to be covered. In this case, private companies, the general public and institutions of the construction sector have addressed the issue of roads and their digitalisation from a broad, global and complete stance/ point of view, presenting their ideas and programs towards digitalisation and progress in the road infrastructure sector.  The members of the PAV-DT consortium are constantly and actively in search of the best solutions for the digitalisation of roads and the improvement of the sector in general, representing an open perspective where all users play a leading role.